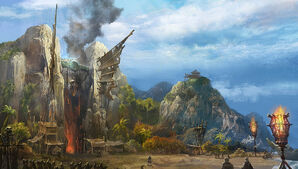 The Southern Continent is home to some of the most lovely and abundant regions in the world. There is little that can compare to the serene Viridian Coast. From the sandy beaches outside of picturesque Bamboo Village, to the eerie depths of the Gloomdross Forest where phantoms play, to the towering coastal cliffs of Songshu Isle.
The Viridian Coast lives up to its name with its lush green plains, cool bamboo forests, and valleys where fragments of the earth float into the sky to dizzying heights. It is home to Jadestone Village, a bustling lakeside community where business thrives in the region, and the prestigious Hongmoon School tucked away in Heaven's Reach beyond the shore. But for all its peaceful beauty, there's always the looming threat of the devious Blackram Marauders waiting to strike at the unsuspecting coastal towns, or the restless spirits haunting the Gloomdross Forest.
Ad blocker interference detected!
Wikia is a free-to-use site that makes money from advertising. We have a modified experience for viewers using ad blockers

Wikia is not accessible if you've made further modifications. Remove the custom ad blocker rule(s) and the page will load as expected.