Finding Wood Samples is one of the side quest found in Jadestone Village. This quest is a tutorial for gathering wood samples for the Tree Fellers in order to order materials from them.
How to get it?
Edit
This quest will only be available if you choose to join the Tree Fellers as one of your gathering guild.
Walkthrough
Edit
Talk to NPC Tree Fellers Apprentice Chai SoEdit
Speak with the NPC to start the quest. She's standing opposite the restaurant. She'll explain that player will need to obtain a sample of the material in order to start ordering from them.

Chai So: "It sure is greatto meet a fellow Tree Fellers member. Nothing beats gathering lumber, eh? Of course, if you want the guild gather wood for you, we'll need to see what kind of lumber you want. That means you have to come here with samples of many different types of lumber. Let's practice! Find me a Yulan Magnolia Log and then we can gather it for you from here on out. There's a Yulan Magnolia sapling beneath the great maple tree beside the Mayor's House. Be a pal and bring me a log, then we'll gladly accept your order."

Gather Yulian Magnolia Log form the sapling beside the Mayor's House.
Edit
There's a small tree beside the mayor's house under a large tree. That's the Yulan Magnolia Tree.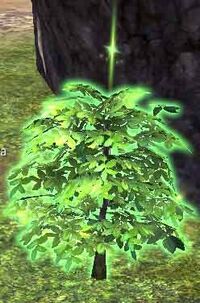 Talk to Chai So
Edit
After gathering samples, then talk to the NPC again to end the quest.

Chai So: "That's a Yulan Magnolia Log, all right. I can tell by the rich color of the bark."

(Here you are.)

Chai So: "Why, thank you. Now you can place an order for this type of wood whenever you like. Gathering wood for you order takes time, though. Be patient! And don't forget to pick up your order, eh?"
Ad blocker interference detected!
Wikia is a free-to-use site that makes money from advertising. We have a modified experience for viewers using ad blockers

Wikia is not accessible if you've made further modifications. Remove the custom ad blocker rule(s) and the page will load as expected.