Finding Shell Samples is one of the side quests found in Jadestone Village. This quest is a tutorial for gathering wood samples for the Fish Network in order to order materials from them.
How to get it?
Edit
This quest will only be available if you choose to join the Fish Network as one of your gathering guild.
Walkthrough
Edit
Talk to NPC Fish Network Apprentice Aung LaEdit
Speak with the NPC to start the quest. He's standing near the jetty. He'll explain that player will need to obtain a sample of the material in order to start ordering from them.

Aung La: "So you've joined the Fish Network, huh? I guess you'd say you're hooked on fishing, huh? Just so you know, if you provide a sample of the fish you want us to catch, then we'll do the hard work for you. How about a practice run? To the north of the village is a large stone bridge. Underneath the bridge live Mottled Cerith. Collect some of the Mottled Cerith and bring them to me. I know these aren't tecnically fish, but we handle all sorts of underwater creatures here at the Fish Network."

Gather Mottle Cerith from under the large stone bridge outside of Jadestone Village.
Edit
Run to the large bride near the Plague Hollow dungeon to look for the shell.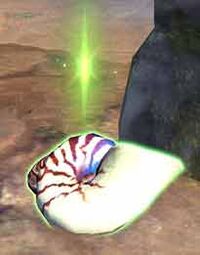 Talk to Aung La
Edit
After gathering material, speak with the NPC again to end the quest.

Aung La: "Let me see what you found."

(Here.)

Aung La: "Yup, these are Mottled Cerith all right. Good work! From now on, the Fish Network can gather all the Mottled Cerith you want. If you want us to gather something else, just be sure to bring us a sample of it. Remember, fishing is a sport of patience, so don't get angry if we take a while to catch your order."

Ad blocker interference detected!
Wikia is a free-to-use site that makes money from advertising. We have a modified experience for viewers using ad blockers

Wikia is not accessible if you've made further modifications. Remove the custom ad blocker rule(s) and the page will load as expected.