The Eternity Belt is the upgraded version of the Draken Belt. It has a special effect at all stages to trigger a Lifeforce effect which restores HP over time and increases the Recovery by 80%. At stage 6 and higher, it gains a set bonus if paired with one of the Destiny Ring, Immortality Earring, or Oath Necklace. The set bonus increases Attack Power by 10 and HP by 10,000.
On receiving damage, gains "Lifeforce" effect, healing 1k health per second and doubles the effect of all healing sources. Lasts 5 seconds and has an internal cooldown of 30.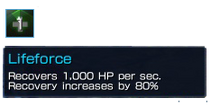 Ad blocker interference detected!
Wikia is a free-to-use site that makes money from advertising. We have a modified experience for viewers using ad blockers

Wikia is not accessible if you've made further modifications. Remove the custom ad blocker rule(s) and the page will load as expected.